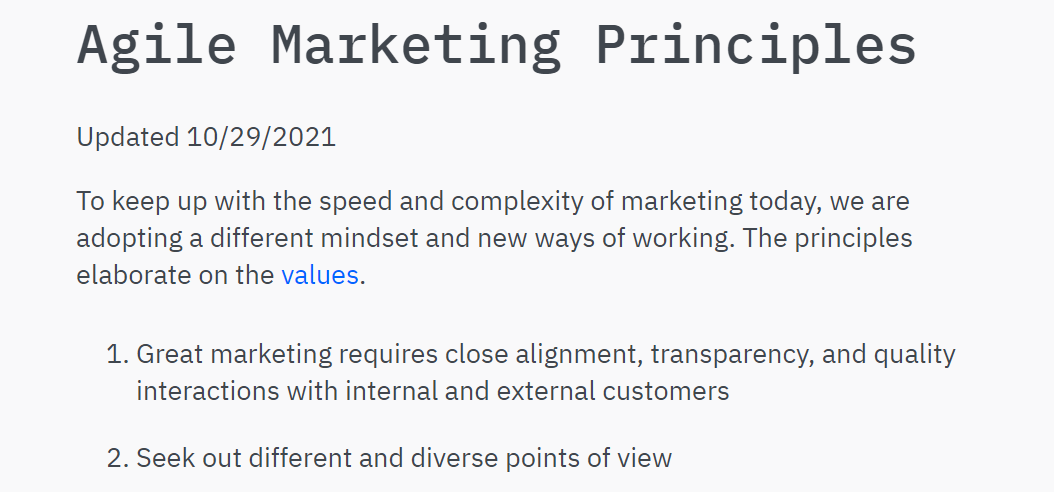 The principles of the Agile Marketing Manifesto have been updated!
You can see and share the newly updated ten principles on the Agile Marketing Manifesto website at https://agilemarketingmanifesto.org/principles/
In 2012 a group of 35 marketers came together at #SprintZero to write the first version of the Agile Marketing Manifesto. The team created an Agile Marketing Manifesto of 7 values and 10 principles.
In early September at a virtual conference called #SprintTwo 80 marketers came together to review the values and principles and update the final version for 2021.
Starting in June the survey and data team (Andrea Fryrear, Rachel Chapman, and Jayson Gehri) produced a survey and sent it out via social media and various email lists. The responses from approximately 150 marketers guided the core team to propose a new set of five values and 11 principles. Then at the #SprintTwo conference, we finalized the five values. Attendees voted on the values and debated the final version before coming to an agreement.
During #SprintTwo we did not finalize the principles but agreed to meet at a later date. In October many of the attendees from #SprintTwo met to finalize the new set of principles to further clarify and elaborate on the values.
We are happy to announce the update to the Agile Marketing Manifesto principles.
Thanks to all the great volunteers involved in the project:
Please share with your community, and see what they think, and start using them in your marketing day-to-day practices.
Lastly, we need to go through the process of translating the principles and the values. If you are interested in attempting a translation of the values, please let us know by filling out the following form. We have established some criteria to guarantee the Marketing and Agile knowledge of the Agile Marketing manifesto's translators. Please fill out the survey: